Wellbeing at Emmanuel Christian School
The school atmosphere / culture must honour the command to "Love God with all your heart, soul and mind and Love your neighbour as yourself" Matthew 22: 37-39
We also have a need to ensure that we are looking after the wellbeing of all students. Waiora speaks of the Water of Life, for us as a Christian School this speaks of the Living Water we can receive from Christ. A 'well' person will have life coming from this living water and will also be showing God's love to others.
At Emmanuel Christian School wellbeing includes:
Providing a 'safe' environment physically and emotionally for all students and staff.

A restorative approach to resolving conflict and preventing harm. '

Bear with each other and forgive one another if any of you has a grievance against someone. Forgive as the Lord forgave you.'

Colossians 3:13

Deliberate teaching on the self-worth that we all have as individuals based on God's love for us and who He says we are. Imago Dei.

The development of activities, teaching and modelling which supports staff and students to maintain wellbeing for themselves and others in the different areas:
o Mental / Emotional Wellbeing: Identity in Christ, Strengths, …
o Physical Wellbeing: Imago Dei, Balance, Self-Care, Exercise, Healthy Life Choices
o Social Wellbeing: Whanau / Family, Friendships, Relational, Empathy
o Spiritual Wellbeing: Virtues, Faith, Worship, Prayer, Grace &Truth, Restoration
Building all of this on the foundation of Christ's love. And developed around the current ECS Way.
Wellbeing Tree Modal: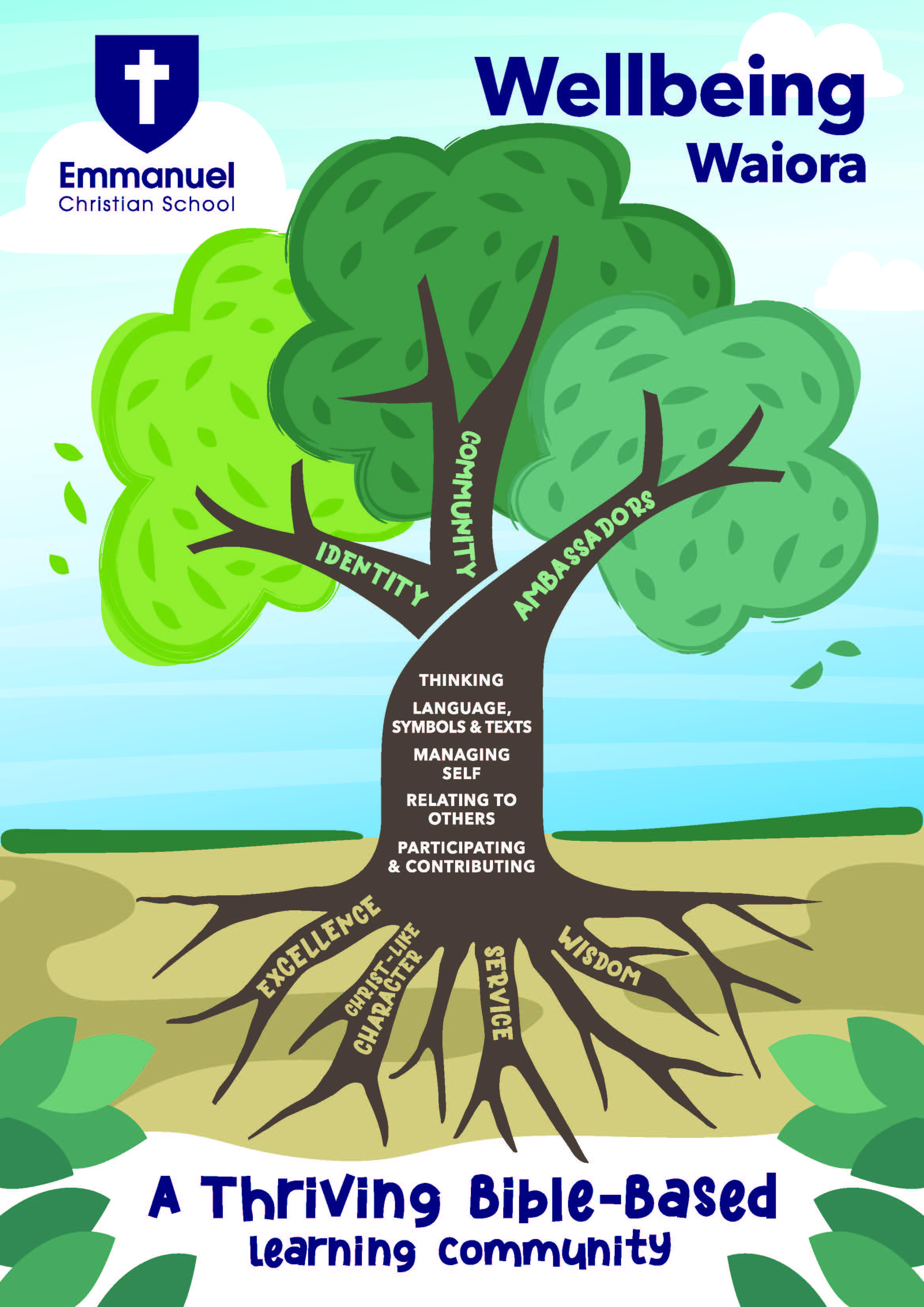 The soil represents God's Word
which nourishes and directs our path as a Bible based learning community. This is further encapsulated in the Emmanuel Christian School's Vision and Values Statements. 'Your word is a lamp for my feet, a light on my path.' Psalm 119 v105 NIV
The ECS Way
The roots represent the ECS Way. As we receive God's Word we develop a desire and ability to demonstrate Excellence, Christ-like
Character, Service and Wisdom.
'And now, just as you accepted Christ Jesus as your Lord, you must continue to follow him. Let your roots grow down into him, and let your lives be built on him. Then your faith will grow in the truth you were taught, and you will overflow with thankfulness.' Colossians 2v 6-7
The trunk represents the Key Competencies
(Self management, Relating to Others, Participating and Contributing, Thinking, Use of Language Symbols and Texts).
The trunk represents these capabilities as identified in the New Zealand Curriculum that people are required to develop in order to live and learn today, and into the future, to fulfill God's purposes. 'For I know the plans I have for you, says the Lord. They are plans for good and not for evil, to give you a future and a hope.' Jeremiah 29 v 11
Identity, – who we are and who God is. Also how do we look after ourselves. Our individuality and value, along with our purpose.
Community – We are created to live in community, but what does a healthy community look like and how does this impact on the way we behave, the decisions we make, the way we interact
Ambassadors – of Christ, of ourselves, of our community – what do we do as we look outwards The branches represent our God-given value, sense of belonging and purpose and the leaves represent the outworking of these. 'In the same way, let your light shine before others, that they may see your good deeds and glorify your father in heaven.' Matthew 5 v 16